Adult Monkey Bars / Ninja Gym Equipment
"I was really impressed with the entire process of working with Pascetti Steel. I don't want any injuries for my clients, but I want to continue to push and challenge them and make them stronger so I needed to customize some equipment. I really didn't know the direction or what was even possible, but Pascetti Steel came in and brought in a prototypes for me and the process was just unreal. They gave me exactly what I wanted. These systems are so much better than other online options because I was limited to what they created. Pascetti Steel's customization was able to make my equipment stronger and to my specifications." – Firebellz Gym Owner
Custom powder-coated adult monkey bars system installed at Firebellz gym in Albuquerque.
Dimensions: 20′ L x 6′ W x 8′ T
Monkey bars are one of the most effective and versatile workout tools you probably never thought to utilize. They can accommodate tons of body-weight exercises and they're adaptable for athletes of every fitness level.
Firebellz is a Russian Kettlebell and Z-Health Performance fitness center in Albuquerque, New Mexico. See more systems we have fabricated for Firebellz here, here, here, and here.
Pascetti Steel Design, Inc. has the experience and resources to manage your commercial fabrication projects.  We offer a wide range of services and custom steel fabrication including; stair systems, commercial railing, large shade structures, and numerous government and city projects that require custom metal fabrication. Our team can provide complete, turnkey solutions for your project. From initial design and shop drawings, through delivery and installation, Pascetti Steel gladly accepts unique projects that most fabricators avoid.
Lead times are important and we realize that some projects demand quick response and delivery.  By controlling the design, fabrication, and installation we can provide completed products faster than our competition and eliminate the hassles of hiring a separate installation crew.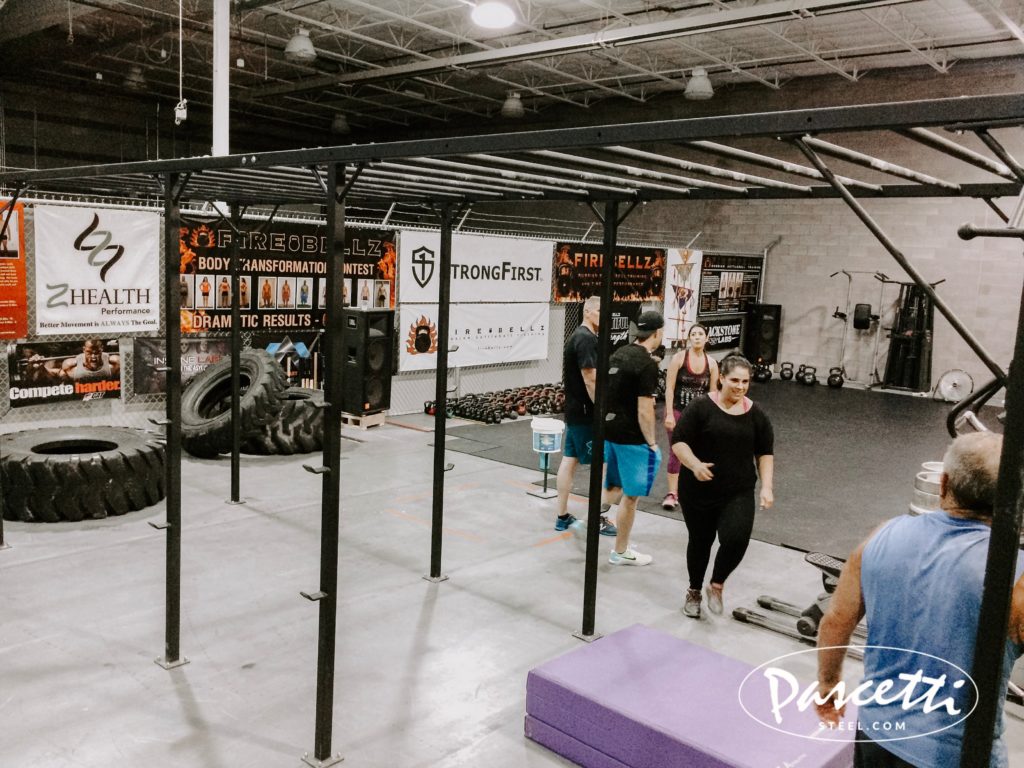 Another monkey bar system here