"Pascetti Steel designed and installed a heavy bag rack for us. They were professional, on time and affordable. The quality of both the product and the service was stellar. We can not recommend them high enough. If you need any steel fabrication work you will NOT be disappointed if you hire Pascetti Steel." – Michelle Lucero, ABQ MMA
The PATENT PENDING Phat Rack™ – Free Standing punching Bag Frame by Pascetti Steel is a large steel system designed to support multiple heavy bags. This custom heavy bag rack is used by commercial gyms which depend on top quality and reliability. Many spaces don't allow attachment to walls, ceiling or joist; our system is engineered for free-standing use keeping valuable space free.  This multiple heavy bag rack uses rolling track systems which allows bags and other equipment to easily slide out of the way letting one space transform for many activities. Our exclusive design uses overhead beams reducing the need for numerous columns impeding valuable space and is structurally engineered relieving the liability on commercial gyms and fitness centers.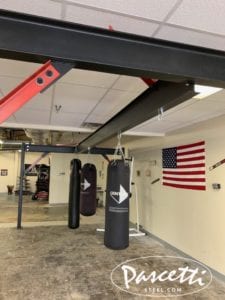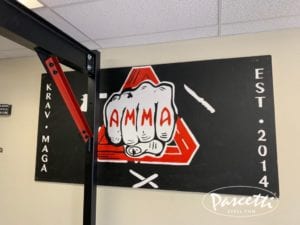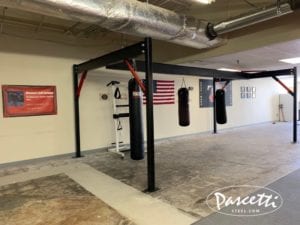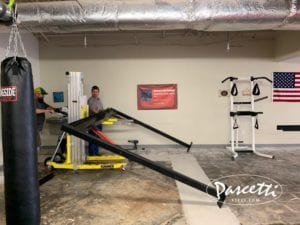 Many gyms now offer different group classes for bungee fitness, yoga, TRX training, kickboxing, and more, our free-standing punching bag frame offers industrial strength and utilizes the most efficient space available to accommodate the various classes. Double your memberships by increasing your class size!
Our multiple custom heavy bag rack is pre-engineered and can easily be assembled and bolted to the gym floor supporting 30 bags or more.
Our punching bag frame has pre-punched base plates and cross-bracing for easy assembly and added stability. Racks can be custom-fabricated to fit your specific area and can include many options for different classes.
This system uses no internal columns measures 20' wide x 40' long x 9' tall and can support 30 or more heavy bags.
Each stand is custom-designed and fabricated right here in the U.S.A.
Customize the stand – you choose the color, sizing, and options
Rolling track hardware available
Pre-punched base plates and cross-bracing
All required hardware included
Engineered stamped drawings available
We can custom fabricate almost any size or shape you want.  You can add as many sections end to end and add sections side by side. We build these frames to be exceptionally strong and maintenance-free using structural I-beams and tubing.
Requires at least a 9′ high ceiling
Punching bags and mounting hardware are sold separately
Read our Phat Rack blog here