Custom steel deck railing for an Albuquerque residence.
"I've had 2 jobs done by Pascetti, steel railings on a 2nd story deck and steel railings on a deck that hangs over an arroyo. In both instances the estimate appointment was on time and the estimate was priced fairly, and usually lower than others I had. These guys are so busy (b/c they are so good and fair) that the hardest part of working with them is timing….you might have to wait a couple of months B4 they can get to your job. But once they get to your property they are completely prepared, all of the materials are ready, the installation crew is incredibly fast and hard working, they finish the job in a timely manner (half a day in both of my installations), and the final product is the best it can be: high quality and installed perfectly. I can't say enough good things about this group. Oh, by the way, they answer emails and when dealing on the phone with scheduling or accounting they are friendly, easy to work with, efficient." – Don D., Homeowner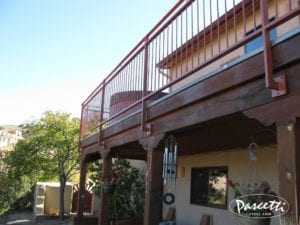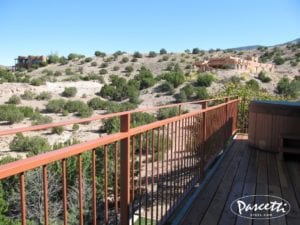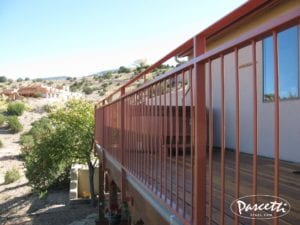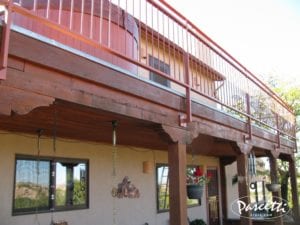 Working with architects and designers at the initial design stage or directly with homeowners, Pascetti Steel will make the entire process from drawings to installation seamless and hassle free. We plan safety and stability into every design we make, the railings and hardware are fabricated to be strong, durable and visually appealing. Choose from a variety of styles including cable railing, glass railing, hand forged and custom railing. We also offer pre-finished aluminum balcony railing for hotels, resorts and other commercial buildings.
We can ship pre-finished railing to any location, complete with all the hardware and installation recommendations. We'll work from your drawings or we can create a design for you. Choose from a variety of styles to fit any architecture. Finishes include chemical treatments, paint, and a wide range of powder coating colors.