Custom wall mount stainless steel rails for Sola Salon Studios in Albuquerque, New Mexico. These wall-mount railings are finished with a #4 brushed finish and installed with mechanical splice systems joining sections together for a continuous appearance. These splices are ideal for long sections and great for easy installations. The internal splice lock fastening system is completely hidden and an attractive choice for many handrail projects.
Clean, stainless steel railings for offices, hotels, and hospitals. Our craftsmen fabricate wall-mount steel and stainless steel hand railings for all sizes of commercial and residential projects. We'll help you choose the right wall-mounted hand railing for your project and budget. Hand railings and mounting hardware are designed and fabricated to meet local codes. Ideal for ADA grab bars in bathrooms and safety grab bars for hallways. A wide range of mounting hardware is available from industrial to ornate.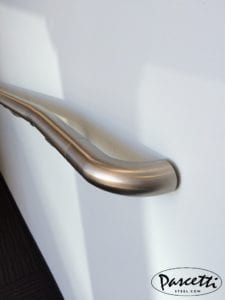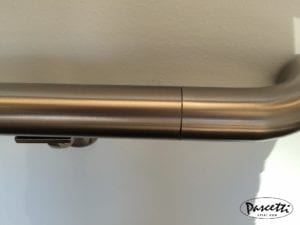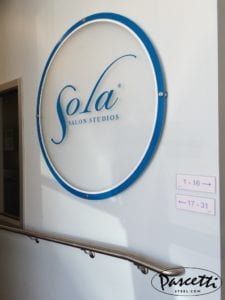 Working with architects and designers at the initial design stage or directly with homeowners, Pascetti Steel will make the entire process from drawings to installation seamless and hassle free. We plan safety and stability into every design we make, the railings and hardware are fabricated to be strong, durable and visually appealing.­
In 2004, Sola Salon Studios was established and now with more than 250 locations open nationwide,they offer salon professionals the freedom and benefits of salon ownership without the upfront costs and risks associated with opening a traditional salon. Their innovative salon model empowers hairdressers, estheticians, nail techs, massage therapists and other like-minded professionals to take control of their lives and their careers. Providing beauty professionals with high-end, fully-equipped salon studios alongside the support and tools they need to launch their salon business in no time.
We can ship pre-finished stainless steel rails to any location, complete with all the hardware and installation recommendations. We'll work from your drawings or we can create a design for you. Choose from a variety of styles to fit any architecture.
See other handrail styles here, here and here.