Santa Ana Shade Structure with Custom Shade Sails
The custom Santa Ana shade structure with shade sails is located at the Cedar Greens Octagon Area at the Santa Ana Star Casino Hotel and is approximately 100' across and 17' tall.
"Pascetti Steel Design, Inc. completed a major shade sail project for us here at Santa Ana Star Casino Hotel, near Bernalillo. They completed the project efficiently and professionally and we now have a wedding venue that offers our wedding guests abundant shade wonderful views for their warm weather nuptials. Thank you very much Damian and everyone at Pascetti Steel!" – R. Frederkind
Safety is an integral part of outdoor activities and play for everyone, especially children. Shade is the best preventative! Shade structures block up to 97% of the sun's harmful ultraviolet (UV) radiation. Strong and elegant shade structures complement any architectural style. Whether you're looking for a simple stand-alone structure or an integrated system of covered walkways and shelters, Pascetti Steel knows how to take your core concept and make it a reality.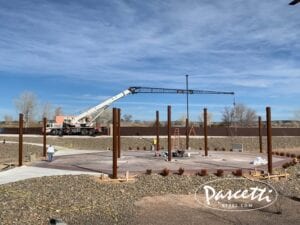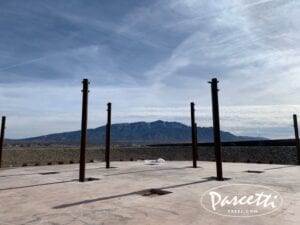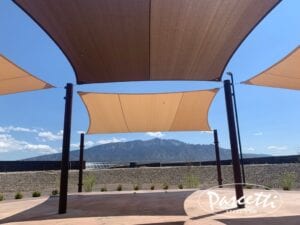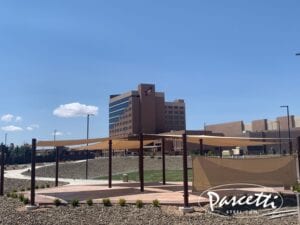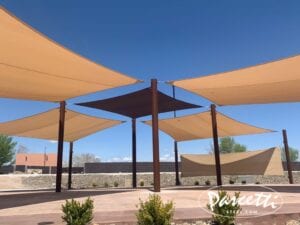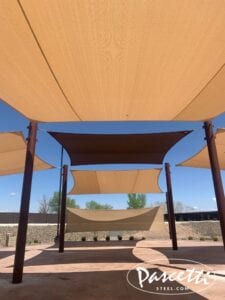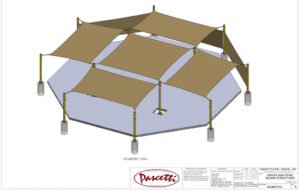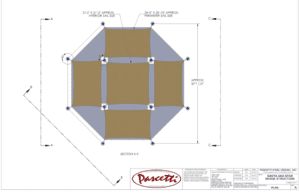 Pascetti Steel Design creates shade structures versatile enough for any outdoor location.
Athletic Venues
Parking Structures
Playground Shading
Parent Pickup Areas
Corporate Complexes
Restaurant Patios
Parks and Recreation Areas
Transit/Bus Stops
Walkways
Whether you need residential shade sails or commercial shade structures we can provide an outdoor shade solution that will protect your most valuable assets from the harsh UV rays of the sun while adding aesthetic to your home or business.