At Pascetti Steel we specialize in custom and pre-fabricated, ready-to-assemble stair units. From formed steel plate and channel stringers to stair units with aluminum ADA compliant treads. We can ship complete pre-finished stairs directly to the job site with all necessary hardware. Custom railings can always be added to match the style of stair.
Working with architects and designers at the initial design stage or directly with homeowners, Pascetti Steel will make the entire process from drawings to installation seamless and hassle free. We plan safety and stability into every design we make, the railings and hardware are fabricated to be strong, durable and visually appealing. Choose from a variety of styles including cable railing, glass railing, hand forged and custom railing.
The rusty finish is very distinctive; please view pictures to see the wide range of colors the rust process will produce. It begins with a chemical bath, which starts the natural rusting process, let Mother Nature continue for a couple days and rinse with clear water.  Finally, we spray a super tough matte clear coat to protect the finish (interior applications only).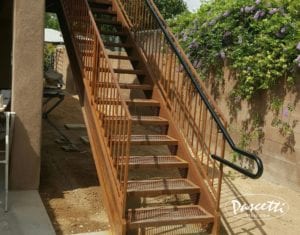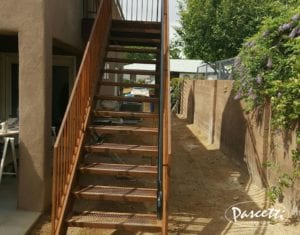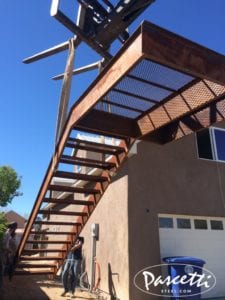 We can ship pre-finished railing to any location, complete with all the hardware and installation recommendations. We'll work from your drawings or we can create a design for you. Choose from a variety of styles to fit any architecture. Finishes include chemical treatments, paint, and a wide range of powder coating colors.