Pipe Latilla Shade Structure with Rusted Finish
Sun safety is an integral part of outdoor activities and play for everyone, especially children. Shade is the best preventative! Shade structures block up to 97% of the sun's harmful ultraviolet (UV) radiation. Strong and elegant shade structures complement any architectural style. Whether you're looking for a simple stand-alone structure or an integrated system of covered walkways and shelters, Pascetti Steel knows how to take your core concept and make it a reality.
Pascetti Steel creates shade structures versatile enough for any outdoor location.
• Parking Structures
• Playground Shading
• Parent Pickup Areas
• Corporate Complexes
• Restaurant Patios
• Parks and Recreation Areas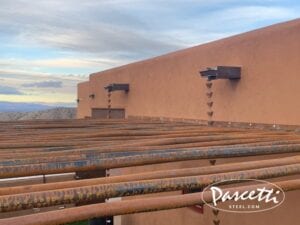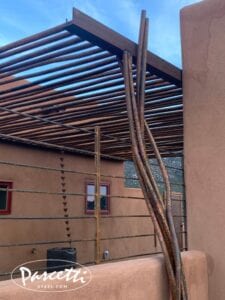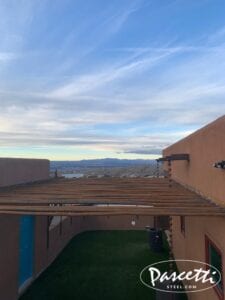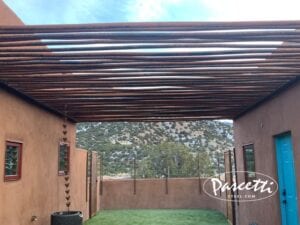 Interested in this pipe latilla shade structure? Give us a call at 505.341.2900 for a free quote
We fabricate unique shade structures, railings, distinctive custom stairs, and a limitless number of custom architectural designs and give each customer the personal attention required to transform their idea into a reality that will last a lifetime. Our products are also 100% made in the USA.
No matter what your idea, our expert staff will work with you to develop designs, take appropriate measurements and create professional drawings for your review.