Custom residential plasma cut floral design gate. This gate was designed to replicate the owner's existing front door and fabricated with a plasma cut design and a beautiful rusted finish. Gates do much more than provide security and privacy; they also add beauty to homes and landscapes. Whether it's a simple steel picket gate for a patio or one of our custom-forged ornamental steel gates, we'll help you select the right gate and latch combination for your setting.
Our custom gates are designed for courtyards, patios, entries, pools, and more with a wide range of styles from picket gates, security gates, custom-designed gates, and gates for ornamental garden fencing. Choose from several latch styles to suit your needs. Any style can be converted to a pool gate with self-closing hinges and locks to meet code and safety requirements.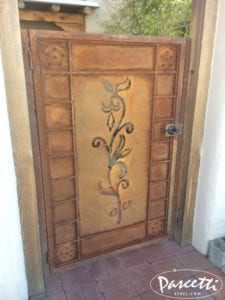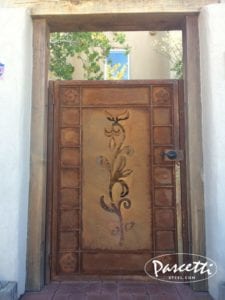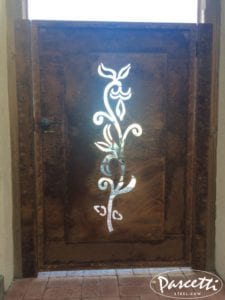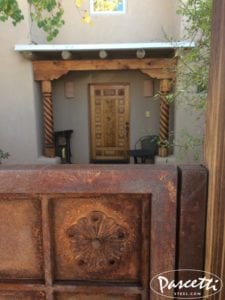 Another custom design to match the front door of the home. ABQ, NMThe rusty finish is very distinctive; please view the pictures to see the wide range of colors the rusting process will produce. It begins with a chemical bath, which starts the natural rusting process, let Mother Nature continue for a couple of days and rinse with clear water. Finally, we spray a super tough matte clear coat to protect the finish.
View similar custom plasma cut gates here, here, and here.
View our natural steel rust finish examples here.
Call us today for your custom steel fabrication projects at 505-341-2900 and email our team for your free estimate at info@pascettisteel.com