This set of custom decorative steel gates were fabricated with a stylish cutout mural of sunflowers and birds topped off with our beautiful rustic finish that makes for the perfect upgrade from an old and boring set of wooden gates. The artwork was cut with perfect precision on our plasma cutter and is reinforced with decorative steel rods that mimic the stems of the plants in the mural.
"I came to Pascetti Steel with my own hand sketch and enjoyed collaborating with Damian.  The finished product is nothing short of special.  They create a focal point for the house.  The neighbors are envious of these show pieces!  We especially love the custom cane bolts.  Damian and his crew were easy to work with on a somewhat complicated installation.  Overall, we are more than pleased." 
Gates do much more than provide security and privacy; they also add beauty to homes and landscapes. Whether it's a simple steel picket gate for a patio, or one of our custom forged ornamental steel gates, we'll help you select the right gate and latch combination for your setting.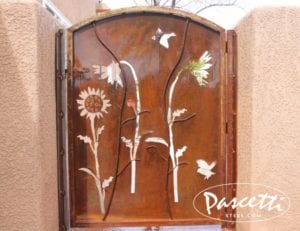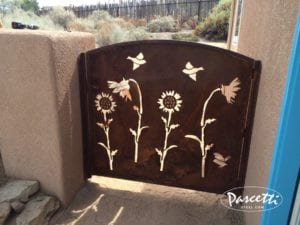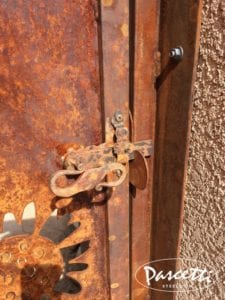 Our custom gates are designed for courtyards, patios, entries, pools and more with a wide range of styles from picket gates, security gates, custom designed gates and gates for ornamental garden fencing. Choose from several latch styles to suit your needs. Any style can be converted to a pool gate with self- closing hinges and locks to meet code and safety requirements. Top corners of all gates are mitered, welded, and sanded smooth: plastic caps are never used.
Read the blog here.