Custom stair railings, enclosed security stair unit, and balcony railings.
Working with architects and designers at the initial design stage or directly with homeowners, Pascetti Steel will make the entire process from drawings to installation seamless and hassle free. We plan safety and stability into every design we make, the exterior railing systems and hardware are fabricated to be strong, durable and visually appealing. Choose from a variety of styles including cable railing, glass railing, hand forged and custom railing. We also offer pre-finished aluminum balcony railing for hotels, resorts and other commercial buildings.
We can ship pre-finished exterior railing systems to any location, complete with all the hardware and installation recommendations. We'll work from your drawings or we can create a design for you. Choose from a variety of styles to fit any architecture. Finishes include chemical treatments, paint, and a wide range of powder coating colors.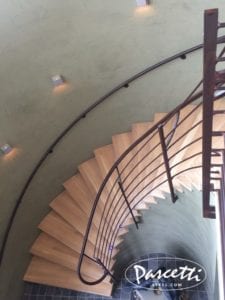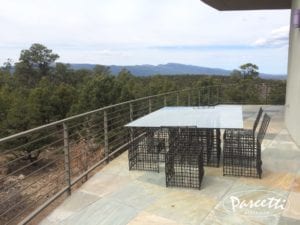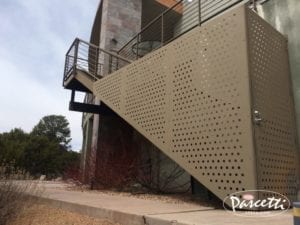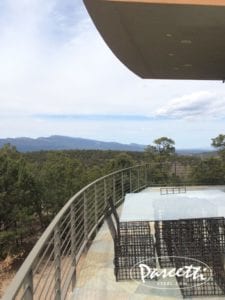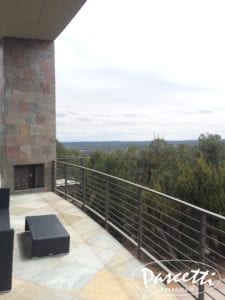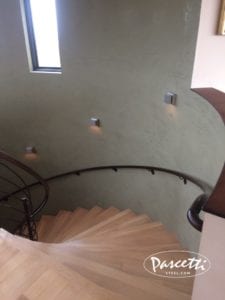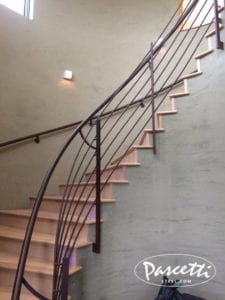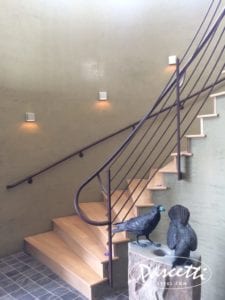 View another enclosed security stair here.
Gates do much more than provide security and privacy; they also add beauty to homes and landscapes. Whether it's a simple steel picket gate for a patio, or one of our custom forged ornamental steel gates, we'll help you select the right gate and latch combination for your setting. Our plasma cut driveway gates are fabricated entirely by hand from raw material to finished product. Every individual gate is unique in its own way.
Custom gate designs for courtyards, patios, entries, pools and more
A range of styles from steel picket, security, custom designed and gates for ornamental garden fencing.
Choose from several latch styles to suit your needs.
Any style can be converted to a pool gate with self-closing hinges and locks to meet code and safety requirements.
Top corners of all gates are mitered, welded, and sanded smooth. Plastic caps are never used at Pascetti Steel.
Make sure you check out our main entry doors to coordinate with your gates!