A branch of Sandia Area Federal Credit Union in Albuquerque, NM recently received a facelift on one of their outdoor stairwells courtesy of Pascetti Steel Design. This custom perforated metal enclosure features anti-graffiti natural aluminum finish, trimmed edges, and of course, complete installation. Pascetti Steel Design offers custom perforation on all types of metal, including stainless steel, aluminum and Corten, so that each individual project can meet the specific needs of the architect and owner.
Scott H. Connedy, President and CEO of Sandia Area Federal Credit Union, had this to say regarding the completed project:
"When I was a kid I just could not pronounce spaghetti correctly. It always came out "pascetti" and it is still one of my favorite foods. When I heard of Pascetti Steel Design, naturally I associated it with a good thing. When our project was completed I was truly impressed. The gleaming aluminum panels Pascetti covered our staircase with turned them into an integrated sculpture. Our building looked good, but now it looks fantastic! See for yourself! THANKS PASCETTI STEEL!"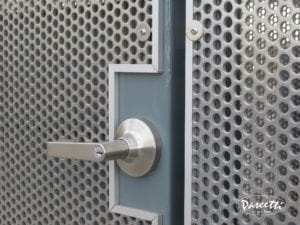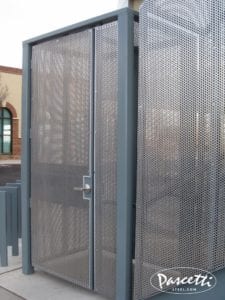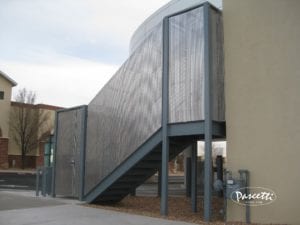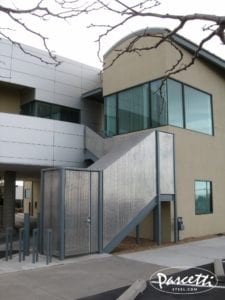 Working with architects and designers at the initial design stage, Pascetti Steel will make the entire process from drawings to installation seamless and hassle-free. We plan safety and stability into every design we make, the railings and hardware are fabricated to be strong, durable, and visually appealing. Choose from a variety of styles including cable railing, glass railing, hand-forged, and custom railing. We also offer pre-finished aluminum balcony railing for hotels, resorts, and other commercial buildings.
We can ship pre-finished railing to any location, complete with all the hardware and installation recommendations. We'll work from your drawings or we can create a design for you. Choose from a variety of styles to fit any architecture. Finishes include chemical treatments, paint, and a wide range of powder-coating colors.
Another perforated metal enclosed entryway here.
Read our blog here.