Pascetti Steel Design has completed the fabrication and installation of a one-of-a-kind custom steel sculpture at the Carlisle Circle Center in Albuquerque, New Mexico. The geometric patterned media art is made from rolled steel that is cleverly decorated with colored acrylic circular inserts and measures 60 linear feet. This project was originally designed by architect William Kleinschmidt of Santa Fe, New Mexico. Always eager to take on commercial projects, this piece was a great opportunity to create something unique for our community that adds much-needed flare to an otherwise ordinary section of Albuquerque. We take great enjoyment in knowing that thousands of daily commuters will admire our sculpture for many years to come.
Working with architects and designers at the initial design stage, Pascetti Steel will make the entire process from drawings to installation seamless and hassle-free. We plan safety and stability into every design we make, the railings and hardware are fabricated to be strong, durable, and visually appealing. Choose from a variety of styles including cable railing, glass railing, hang forged, and custom railing.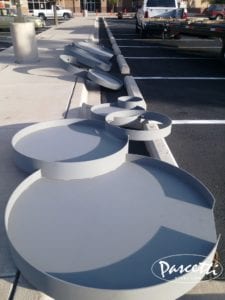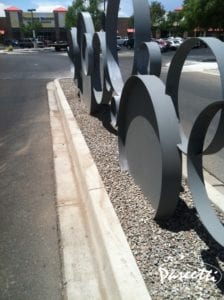 Steel median sculpture installation
View more commercial steel signage here and view our funky one-of-a-kind projects here.
View more of our favorite projects of 2014 here