Pascetti Steel, designed and fabricated a 1,400 linear-foot custom commercial cable railing system for the recently completed $6.2 million Orange Riverfront Boardwalk and Pavilion project in Orange, Texas. The boardwalk's railings feature hot dipped galvanized finish, 3/16 inch stainless steel cables and hardware, and over 16,000 rubber grommets to complete the custom look.
Pascetti Steel completed the installation on this difficult site, much of the cable railing was installed from a floating construction barge. The boardwalk incorporates a 50′ performance pavilion with a canopy, which provides 2,000 feet of coverage. The boardwalk serves as the stage. The project began in June of 2012 and was completed in May 2013. Additional information regarding the project can be found through the prominent Orange, TX news site, The Record (therecordlive.com)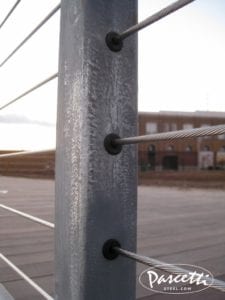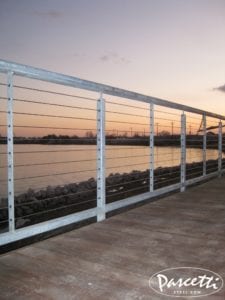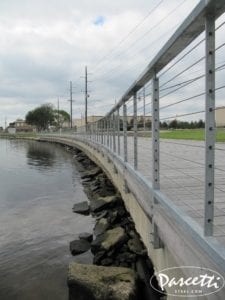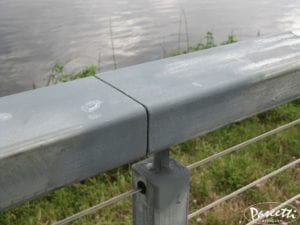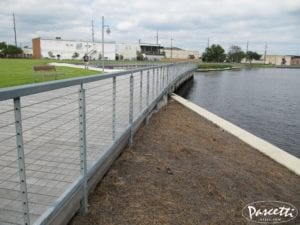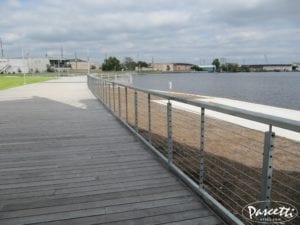 The riverfront and pavilion sits along the Sabine River in downtown Orange and features a twelve-foot wide boardwalk, a large pavilion, and a two-acre green space. This venue serves as the host site for many of Orange's outdoor festivals but is open to the public to enjoy.
Our cable railings provide the perfect solution for many interior and exterior applications. Tension devices can be concealed within the frames, providing a sleek and tamper-resistant product, which is ideal in public venues where vandalism may occur. Our experienced and OSHA-certified team can manage almost any installation.
Working with architects and designers in the initial stages or directly with homeowners, Pascetti Steel will make the entire process from drawings to installation seamless and hassle free. We plan safety and stability into everything we create. Choose from a variety of styles including cable railing, glass railing, hand-forged, and custom railing. We also offer pre-finished aluminum balcony railing for hotels, resorts and other commercial projects.
We can ship pre-finished railing to any location, complete with all the hardware and installation recommendations. We'll work from your drawings or we can create a design for you. Choose from a variety of styles to fit any architecture. Finishes include chemical treatments, paint, and a wide range of powder coating colors.