Pascetti Steel Arts Project:
Crafting the Steel Bones Behind A Historic Tiffany Glass Restoration
A mere two-and-a-half hours from Pascetti Steel's studio in Albuquerque is the Magdalena, New Mexico studio of world-renowned glass artists Cynthia Welton and Tim O'Neill. Tim made his mark in the Pacific Northwest progressive glass artist movement of the 1970s, working with Ed Carpenter, and even studying in Germany under a grant from the National Endowment of the Arts and the Oregon Arts Commission. Cynthia made her mark in 1980s New England, graduating from the Rochester Institute of Technology. She initially studied silversmithing and metalsmithing, ultimately becoming a name in the world of art nouveau stained glass historic restoration and preservation. In short, when someone wants to restore a priceless Tiffany or La Farge stained glass window, Cynthia is one of a select few getting that phone call.
The glass-steel intersection of Cynthia, Tim and Damian Pascetti started in 2005 with a private residence art installation project in Chattanooga, Tennessee – a fountain made of steel and blown glass orbs. Damian crafted the six sculptural framework pieces upon which the blown glass orbs were placed. Cynthia fabricated the glass tiles lining the fountain. She and Tim were both impressed with Damian's craftsmanship and attention to detail. As Tim recalled, "International multimedia artist Howard Meehan recommended Damian, and since then, we've done five projects with Damian. He has such an understanding of artistic work. When we were working on this last project 1,500 miles away, I can't explain to you how comforting it was to know Damian was fabricating it. He and his crew are all wonderful to work with. He demands total perfection out of everybody. His shop looks like no one has ever worked in it. You could eat off of the floor, it's so clean – it's impressive."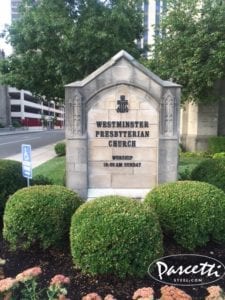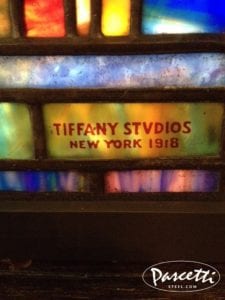 Most recently, Damian was asked by Tim and Cynthia to craft the stained glass support steel for three 1918 stained glass Tiffany & Co. "Te Deum" church windows for the Westminster Presbyterian Church of Dayton, Ohio. The three windows were valued at five million dollars. The project took the team a total of 24 months to complete, with a final price tag of $400,000 (most of their stained glass restoration projects range from $600,000 to $700,000).
Cynthia explained, "This south-facing window had experienced heat build up since 1920 when it was first installed —most people don't realize these windows only have a life expectancy of 50 to 100 years. The heat was causing the structure of the stained glass to deteriorate, and the panels were buckling. Our dilemma was what to do about the setting detail. We didn't want to put the windows back into the existing frames, or we'd have this problem again in the near future. Damian came to Dayton to do a site survey and suggested that a new frame be built and set into the window opening — inside of the original frame — leaving the protective glazing in place with enough space and ventilation so it wouldn't get heated up the way it had been. So that's what we did."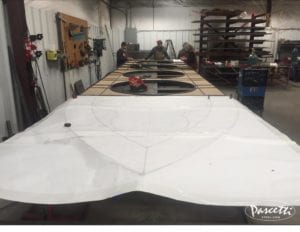 Damian elaborated, "The biggest challenge was assuring that this very precise shape of glass would fit within the steel frame, and there would be no trimming of stained glass. You cannot trim down priceless Tiffany glass. That was the biggest challenge to assure everyone – through a series of full-sized cardboard templates that Cynthia produced for us. Then we double-checked them and documented every step of the way with photos."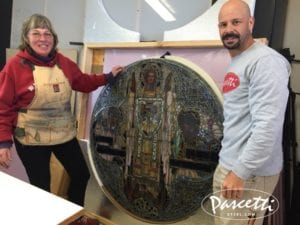 Damian first transferred Cynthia's cardboard patterns to his steel and aluminum fabrications, which he built in sections. Thousands of holes were precision-drilled, tapped, and then mated with accompanying support members with countersunk machine screws. All of the frames were assembled, marked, packaged, and shipped to the job site in Dayton, where they were assembled in a modular fashion.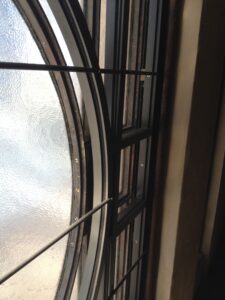 Said Tim, "This project required innovation and creativity. Everything fit perfectly, because Damian's so meticulous, and he had such an understanding of what we were doing. Nothing went wrong. He just doesn't make mistakes. The center window lancet alone was 27 feet tall, to give you an idea of the scope."
"I hadn't done a project specifically like this one before, and they're not very common, but I'd like to do more," Damian added. "Working with Tim and Cynthia gives me the opportunity to challenge myself to pioneer creative solutions. I always look forward to collaborating with them."
"It's a delight to work with Damian," Tim effused. "We consider him a friend as well as someone we do business with," Cynthia added.
Tim and Cynthia completed the Te Deum installation in August 2016, but the creative magic of glass intersecting with metal between the Albuquerque and Magdalena studios continues on, ad infinitum.