As your eyes glaze over from the sheer size of these gorgeous perforated shade structures grounded literally in the "heart" of the main UNM campus, you might already be planning your next getaway to enjoy, study and simply hang out. A gathering place sure to please all.
"Damian,
Before time slips away, we here at McClain + Yu wanted to thank you and your team for the outstanding job Pascetti Steel did with the shade canopies and the Navy Bell Armature at Smith Plaza.  We enjoyed our collaborative process during design and appreciate the detail of your work, the craftsmanship, and the vision for the final product.  I sincerely hope we have the opportunity soon to collaborate with you on a next project!" – Raimund McClain, McClain + Yu Architecture & Design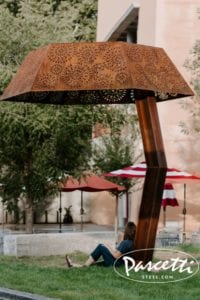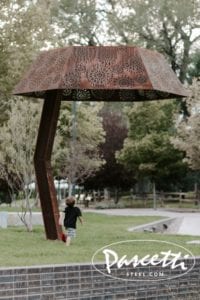 All six perforated shade structures are a collaboration between architect, general contractor and our own locally owned and highly renowned Pascetti Steel Design, Inc.
The massive size and shape of each structure will welcome you in with a friendly hue of bright yellow. Just for fun, you will need to stand under one to truly appreciate and experience the daylight in several ways; which will depend on the time of day you visit.
These maintenance -free steel structures were built with precision and will stand the test of time; for generations to come. A true conversation piece!
We invite you to visit UNM campus to tour the Smith Plaza pavilion! You will not be disappointed.
Smith Plaza, the center and heart of main campus at The University of New Mexico, has reopened after undergoing a major renovation completed by Jaynes Corporation. The design team included MRWM Landscape Architects, McClain +Yu Architects and Surface Design, Inc.
To celebrate the completion of the project, the public is invited to an official ribbon-cutting ceremony on Wednesday, Aug. 29 at 10 a.m. on the Plaza.
It's estimated that 10,000 students travel through Smith Plaza every day. The once mostly concrete plaza has been, "Transformed into a vibrant, safe, accessible, and comfortable 'great room' environment that will host academic and social activities throughout the year," said Kim Kloeppel, UNM's chief operations officer for Student Affairs. "The renovation now has plateaus and landings with trees, grass, and many areas for students to sit, study, and socialize."