Custom Commercial Sign
Pascetti Steel Design was awarded the contract to fabricate and install three 20′ tall baseball player figures at Albuquerque's baseball stadium, Isotopes Park. Each figure was cut out of 1/4 inch steel then welded to a tube steel frame. Wire mesh panels, curved steel plates and integrated lighting compliment the hand-painted finish. High performance automotive paint was used to ensure lasting performance. Each figure weighs approximately 6,000 lbs, and had to be installed 62 feet up. Pascetti Steel designed attachment points to the existing structure, and managed the fabrication and installation. The project was funded by a program called 1% for the Arts, administered by New Mexico Arts. Pascetti Steel Design has completed several projects in addition to this that were also funded by 1% for the Arts.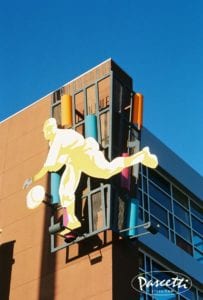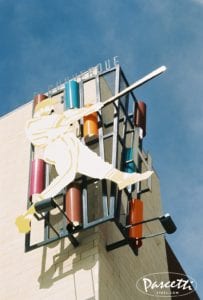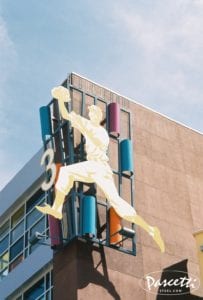 When you want a distinctive and durable way to represent your organization, custom signage offers enormous versatility with a bit of an edgy feel. Let us help you achieve the image you want by suggesting the perfect metal, finish and mounting for your custom metal signs.
Display your message all year long with weather-resistant metal signs
Available plasma cut for cutting of solid-plate stainless steel and precision fabrication for deeper, hollow stainless steel letters
Your choice of either brushed or polished finish
Natural rust finish available for a distressed or antique appearance
Mounting with spacers which allows stainless steel signs to "float" off the wall
Wide range of powder coat colors available
Steel signage allows for complete customization of your business signs in appearance as well as mounting.
Unique custom signage is ideal for many commercial businesses. Fabricating quality architectural steel elements is our specialty. Our experience and state of the art equipment enable us to create anything in steel. Our products are also 100% made in the USA.
No matter what your idea, our expert staff will work with you to develop designs, take appropriate measurements, and create professional drawings for your review.
Pascetti Steel Design has the experience to manage your commercial or residential signage. Our team of qualified professionals can provide complete, turnkey solutions for your project. From initial design and shop drawings, through delivery and installation, Pascetti Steel gladly accepts many unique projects that most fabricators avoid. Our commercial products are incredibly durable and safe.
There are a large variety of finishes available, including chemical treatment, paint, hot-dip-galvanizing, and a wide variety of powder coating options. Every project is fabricated to the strictest specifications and can be ordered with 100% domestic-mandated manufactures construction material. We can also ship pre-finished products to any location, complete with matching hardware and installation drawings.