Steel table frame supports with granite top made for the Governor's Office conference room in Santa Fe, New Mexico.
We fabricate quality steel conference and reception tables for commercial businesses that will give your office a bold, professional first impression for contemporary and modern office settings. Our diverse range of modern reception desks are hand-built to order and can be modified in shape to fit the application.
Functional, ergonomic and elegant furniture is an important part of every office space. It is usually the first thing clients notice, therefore it must blend in with the décor of a room and show the professionalism of your company. Endless design possibilities can be created with Pascetti Steel Design.
Unique metal fabrication is ideal for many projects. Fabricating quality steel elements is our speciality. Our experience and state of the art equipment enable us to create anything in steel.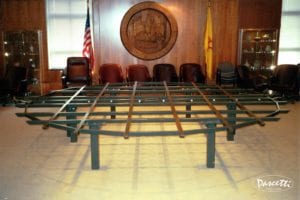 Pascetti Steel prides itself on the highest standards of functionality and durability of each product we produce. Our Products are also 100% made in the USA. No matter what your idea, our expert staff will work with you to develop designs, take appropriate measurements, and create professional drawings for your review.
View more custom commercial steel reception tables and desks here and view our custom residential steel desks and workstations here. The workstations are available in a variety of configurations, colors and sizes!