The Las Golondrinas Homeowners Association hired Pascetti Steel Design, Inc. to replace a fence for our common area after a major accident occurred. After contacting several other companies, Pascetti Steel Design, Inc. was responsive and provided an immediate estimate. In fact, after doing some research myself, Pascetti Steel Design, Inc. displayed current with their licensing through the State of New Mexico which was extremely important for us hiring a reliable and reputable company. I really enjoyed working with Danine, Office Manager. She was extremely knowledgeable, professional, kind, and was committed to ensuring her customer walked away happy. Thank you Danine and the crew at Pascetti Steel Design. You did a beautiful job. – B. Sanchez – HOA President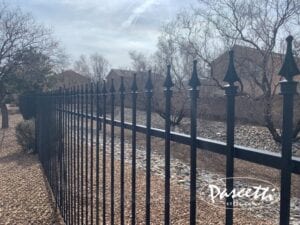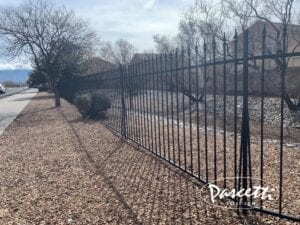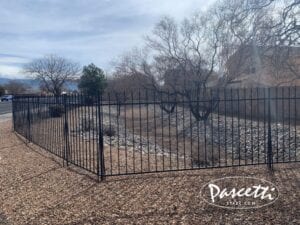 We plan safety and stability into every design we make, the custom railings and hardware are fabricated to be strong, durable and visually appealing.
Working with architects and designers at the initial design stage or directly with homeowners, Pascetti Steel will make the entire process from drawings to installation seamless and hassle free. Choose from a wide variety of styles including cable railings, glass railings, hand-forged, and custom railings. We also offer pre-finished aluminum balcony railings for hotels, resorts and other commercial buildings.
We can ship pre-finished railing to any location, complete with all hardware and installation recommendations.
We will work from your drawings or we can create a design for you.
Choose from a variety of styles to fit any architecture.
Our custom finishes include chemical treatments, paint, and a wide range of powder-coating colors.