Pascetti fabricated this 10' long outdoor BBQ table. Custom cut-outs and industrial mesh shelf were the perfect ingredients of this outdoor kitchen. Exterior powder coating will keep this table looking good for years. Thanks for your business Ray!
Outdoor BBQ
---
Quality architectural products is our specialty. Our experience and state-of-the-art equipment enable us to create anything you can imagine. Our products are also 100% made in the USA.
For custom steel fabrication projects please call us at 505-341-2900 and email our team at info@pascettisteel.com
Check out more of our unique projects here.
BBQ
Some of our Funky one of a Kind projects include:
Commercial playground equipment
A custom steel tree house
Giant wind mobile
Lighting projects and more.
A massive 25-foot table base for the Governor of New Mexico's office
Three 20-feet tall steel baseball players that grace the outside of the Isotopes Park in Albuquerque, New Mexico
Steel solar prism installation inside the Albuquerque Convention Center
Custom steel desks and workstations with a powder coat finish – available in a variety of sizes, styles and colors!
Outdoor BBQ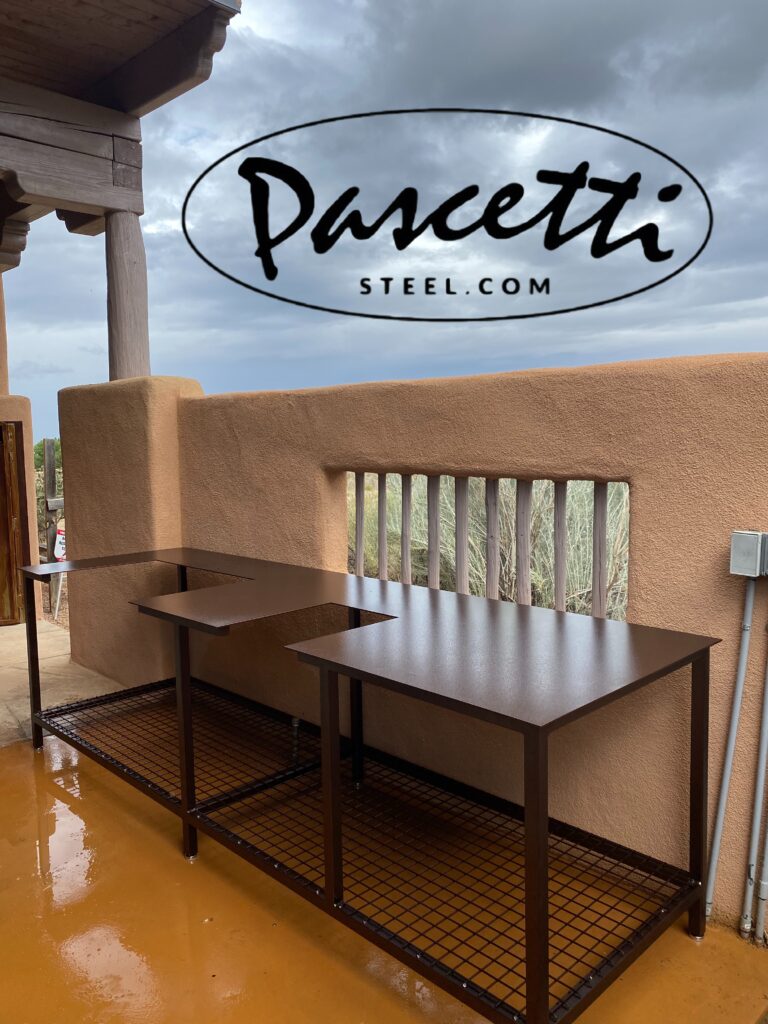 Outdoor BBQ Pascetti fabricated this 10' long outdoor BBQ table. Custom cut-outs and industrial mesh shelf were the perfect ingredients of this outdoor kitchen. Exterior powder coating will keep this table looking good for years. Thanks for your business Ray! Quality architectural products is our specialty. Our experience and state-of-the-art equipment enable us to create anything you can imagine. Our products are also 100% made in the USA. For custom steel fabrication projects please call us at 505-341-2900 and email our team at info@pascettisteel.com. Some of our Funky one of a Kind projects include: Commercial playground equipment, A custom steel tree house, Giant wind mobile, Lighting projects and more. A massive 25-foot table base for the Governor of New Mexico's office, Three 20-feet tall steel baseball players that grace the outside of the Isotopes Park in Albuquerque, New Mexico, Steel solar prism installation inside the Albuquerque Convention Center, Custom steel desks and workstations with a powder coat finish – available in a variety of sizes, styles and colors! Outdoor BBQ