Funky Steel Wine Rack
Need modern wine storage? Cleverly display your wine with our contemporary industrial racks fabricated by Funky Steel! Designed for smaller spaces or just to be stylish, clean lines compliment any kitchen, bar or dining area. Looking for a unique wedding gift or shopping for the girl who has everything? This is it!
This is not a cheap or common import! Our racks are fabricated and finished right here in the USA! Be distinctive and proud to own something produced in small batches while supporting local artisans.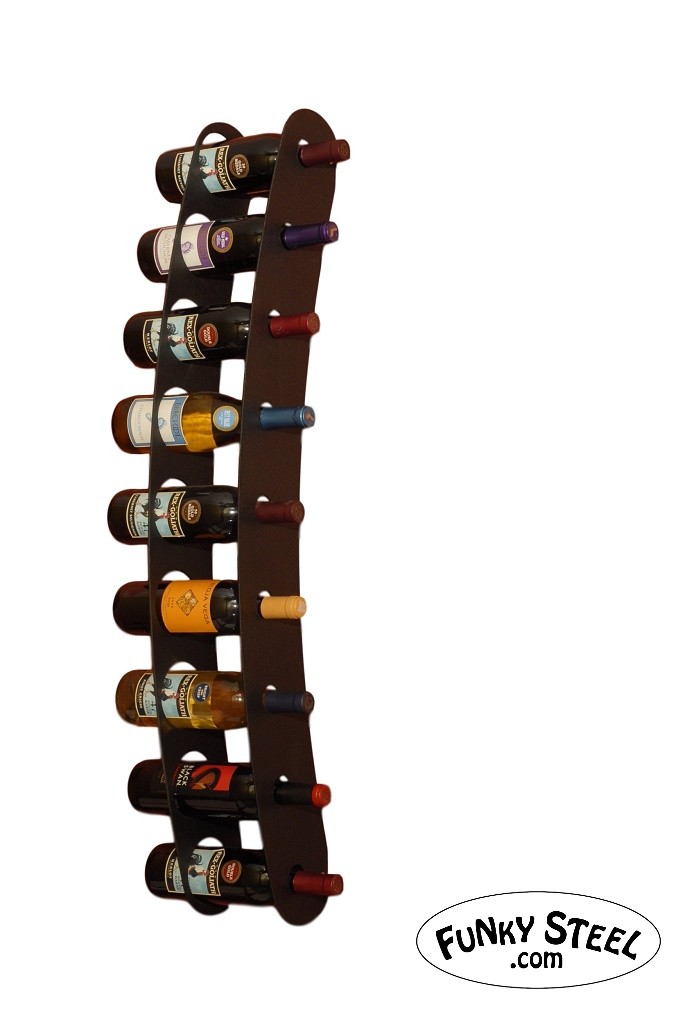 Precision cut from steel plate, then powder coated to create a super tough home for your wine.  Simple design allows bottles to be displayed in either direction and the rack can also be installed horizontally.  Two distinctive powder coat finishes to choose from – see photos for finish options.  Both look great and may be cleaned easily with water.
"Tux Black" is a textured matte black powder coat. This finish blends with every decor and easily compliments the brightest of colors and design.
Simple installation required. All installation hardware included. Click here for instructions.
100% made in the USA
Funky Steel is the new retail branch of Pascetti Steel, a company with a stellar reputation in the steel industry. Funky Steel designs and creates high quality modern furniture and décor, all locally handmade.
Each piece is designed to be functional, beautiful and efficient. A Funky Steel design will quickly become the focal point of your home or office. Our designs are timeless, and will never go out of style.
Funky Steel is a family owned and operated company based in Albuquerque, New Mexico, with deep roots in the steel industry.  Owner, Damian Pascetti, has spent his entire career working with steel, beginning with his father's structural steel business and later moving on to open Pascetti Steel many years ago.
Sign up for our newsletter to be the first to learn about our new products and current specials.
You love a product, but want it in a different color? No problem! Any of our products can be customized to suit your taste or décor. Contact us to discuss your ideas and budget. Funky Steel prides itself on partnering with our customers to create beautiful, functional pieces.