Our new 'Big Jim' Funky Lamp is the perfect mix of funky and awesome! This unique lamp is sure to be the focal point of any room and a great conversation piece. This line is very limited… we are limiting production of these beauties to only 200! Each piece will be signed by the designer, Damian Pascetti, individually numbered and includes a certificate of authenticity.
The huge bulb makes this already great lamp even better! The bulb is impressive, gigantic and a Funky Steel exclusive. Two bulb options are available:
The Giant Torpedo is 17″ tall x 5″ diameter
The Giant Pear is 13″ tall x 7″ diameter
The body of the lamp is fabricated from 8″ structural steel tubing and our signature design includes gentle touch dimmer: simply tap the lamp to turn on, then tap again for a brighter setting… three settings total, simple and sleek, and no assembly required.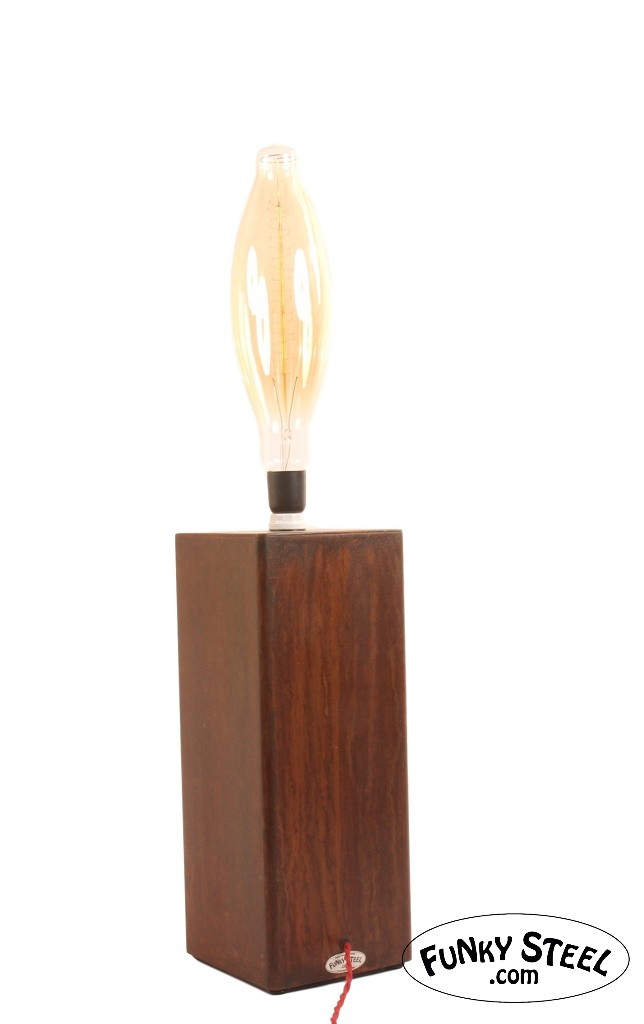 The finish on 'Big Jim' is very distinctive (please view photos to see the wide range of colors), and modeled colors and irregularities add to the unique finish of each piece. It begins with a chemical bath, which starts the natural rusting process then lets Mother Nature finish it off. Finally, we spray a super tough matte clear coat for protection that lasts.
This is not a cheap or common import! Our products are all hand-crafted and assembled right here in the USA! Be distinctive and proud to own something produced in small batches while supporting local artisans.
See more Funky Steel items here, here, and here.